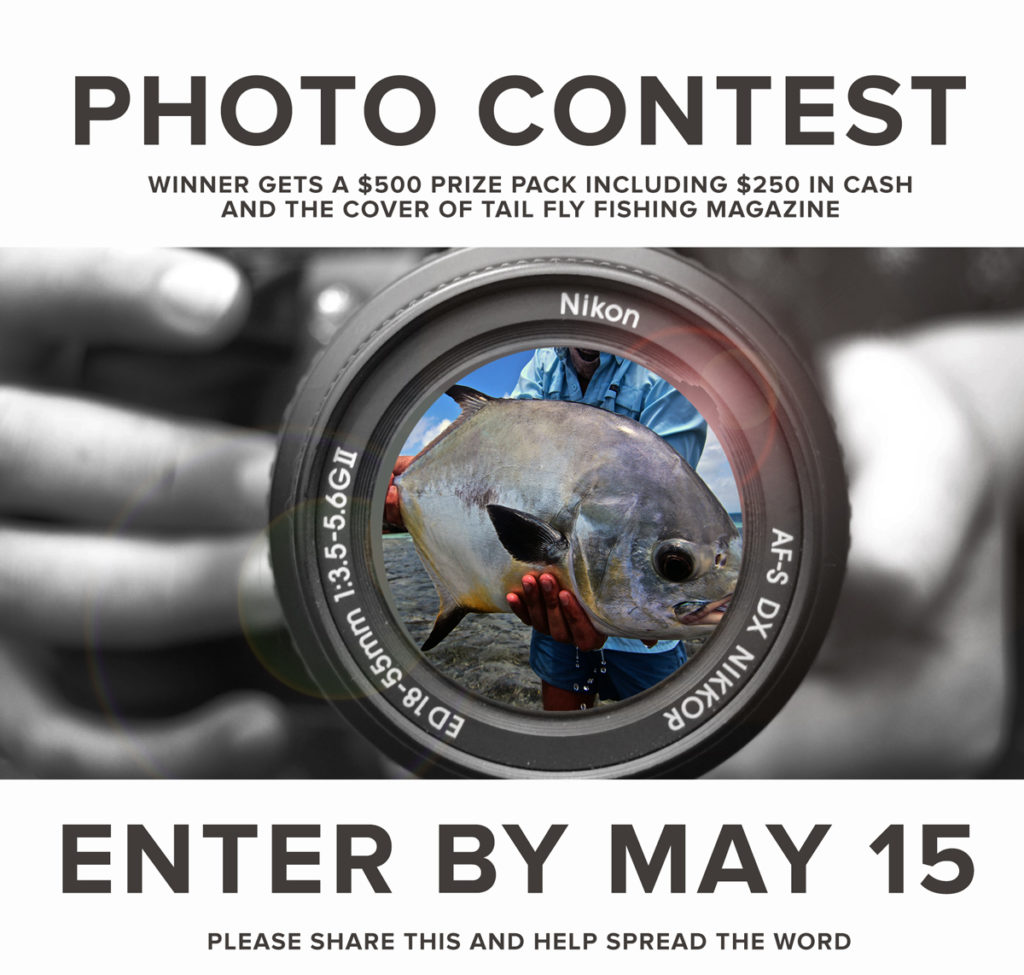 Enter the Tail Fly Fishing Magazine Photo Contest for a chance to win one of our great prizes:
FIRST PLACE:  A VIP gift pack that includes a bunches of great stuff like our giant yellow boat box, oil cloth cap, shirts, buffs, fly boxes, stickers, koozies and 12 perfectionist leaders; $250 in cash, and the chance to have your photo on the cover of Tail.*  
SECOND PLACE:  Our VIP gift pack with all the goodies listed above
THIRD PLACE: your prize is our big yellow boat box, a shirt and hat.
*The winning photo will be used as a cover image for an upcoming issue of Tail Fly Fishing Magazine and possibly the 5 year anniversary issue in September 2017.



Last year's winning photo by Ryan Rodgers was the cover image for Issue 27

If a photo is worth a thousand words, our photographers are the most verbose people on the planet.
At Tail we value the artists that magically transport us to and from the flats and blue water.
Each issue contains a photo essay prominently featured in the opening of the magazine with amazing shots from both amateurs & professionals.
Get noticed, enter today!
3 SIMPLE RULES
Like the TAIL FLY FISHING MAGAZINE Facebook Page

Share this post with 3 friends.

Subject matter should be related to saltwater fly fishing and outdoor living
300 dpi or better, full size or RAW images are best
Submit photos by May 15, 2017
Winner announced on June 1, 2017 
Other entries from our last photo contest:
Allan Donald
Dustin Pack
Ed Borman
Andrew Naekel
Joe Brennan
*Tail reserves the right to edit and modify any submitted images for use by Tail Fly Fishing Magazine 
for both the printed and digital versions of the magazine, as well as any email marketing or social 
media marketing campaigns related to the issue.

  


The photographer and subject will both be credited in the magazine if the image is used.