Traveling for a fly fishing trip can be stressful, especially when you have to travel by air. The question of what to pack and where to pack it is a huge dilemma with new TSA and airline restrictions. Packing correctly can make the difference of actually fishing or not. If your bags get lost, you are probably not fishing or at least not doing so comfortably. Here are five tips to keep in mind when leaving for a trip.
Bring everything you need with you to fish for a day on the plane.
I have seen people wearing their wading boots on the plane, but when you think about it, doing it makes a lot of sense.  Looking like an idiot for a few hours is worth not taking a risk on not having your wading boots with you and can also reduce your carry on or checked bag weight as well.  If you want something to get to its destination, don't give the TSA a chance to lose it. If your boots don't make it to the destination, you probably won't be able to wade safely.  To get everything you need on the plane, you will need to bring a good case to carry your rods and reels, as well as a waterproof fishing backpack to carry clothes, flies and everything else. Remember not to bring anything sharp and pointy, but in our experiences nail knot tools are often overlooked. When you touch down at your location you will be glad you have everything in hand. In your checked bag, pack everything else, your extra clothes and flies. keep in mind that flights in the United States are limited to 50 pounds before you get slapped with an extra charge.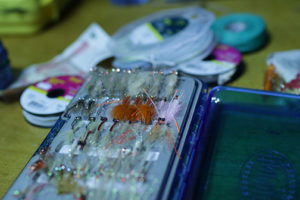 Split up your flies
While the TSA is supposed to allow flies on a plane, you can catch someone who woke up on the wrong side of the bed or someone who just doesn't realize the great effort involved in tying flies. If you put all of your flies in your backpack, you risk all of them being taken away. Because of this, we like to split our flies in half, putting the other half in my checked baggage. This helps increase odds of being able to fish at said location. We also will bring extra leaders an tippet and split that in half. The few times we have have heard of this being an issue is flying into Canada and Costa Rica, where anything that can tie a slipknot is considered a weapon. Fly lines and leaders are fair game to be taken away there and therefore must be checked.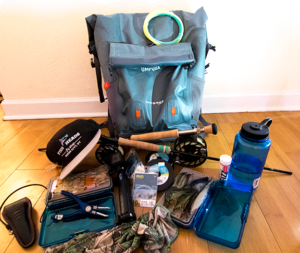 Pack light
Especially on warm water trips, bring only what you need. It is easy to overpack and bring a bag filled with extra t-shirts and shorts. But you will spend most of your time in tech shirts and pants. So bring a few pairs of each and a few clothes to hang out in after fishing and that's about it. Rain gear is always a great idea to throw in the mix, some of our coldest days are not winter camping in Maine, but instead rainy days in Cuba. Trips are not always sunny like in movies in pictures. Tropical places are tropical for a reason, they get a lot of rain, so be prepared for the worst. 
Bring extra sunglasses
Losing your sunglasses is hard to do, but it does happen, and if you lose them, you will struggle to see fish. Sunglasses also double as safety glasses, preventing you from catching a fly to the eye during an errant cast. If you are going to spend money on a trip, spend money on an extra pair of shades. Worst case scenario, when your current ones get too old, you use your back ups as new ones.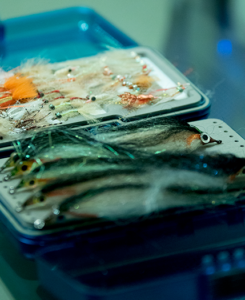 Global Rescue
Say you do take a hook to an eye, get barbed by a stingray or bitten by a curious critter, global rescue will get you home. With a variety of price points to choose from, it is definitely worth the money if you are a serious traveler or even a beginner.   It is a very effective tool to set your wife at ease as well.  Basically Global Rescue specializes in getting you home in almost any situation including civil war. So if the village you are staying in is struck by a natural disaster, violence, or disease outbreak, you're covered.  Even if you need to get home to take care of an infected toe, Global Rescue can literally be a lifesaver for one in need.
Hope this helps on your next trip.  Much of this is common sense but often the angler is so focused on the actual trip that some of the tactical planning and planning for eventualities can be overlooked.